Lesen ist gut. Erleben ist besser.
Sei beim nächsten Workshop mit mir dabei.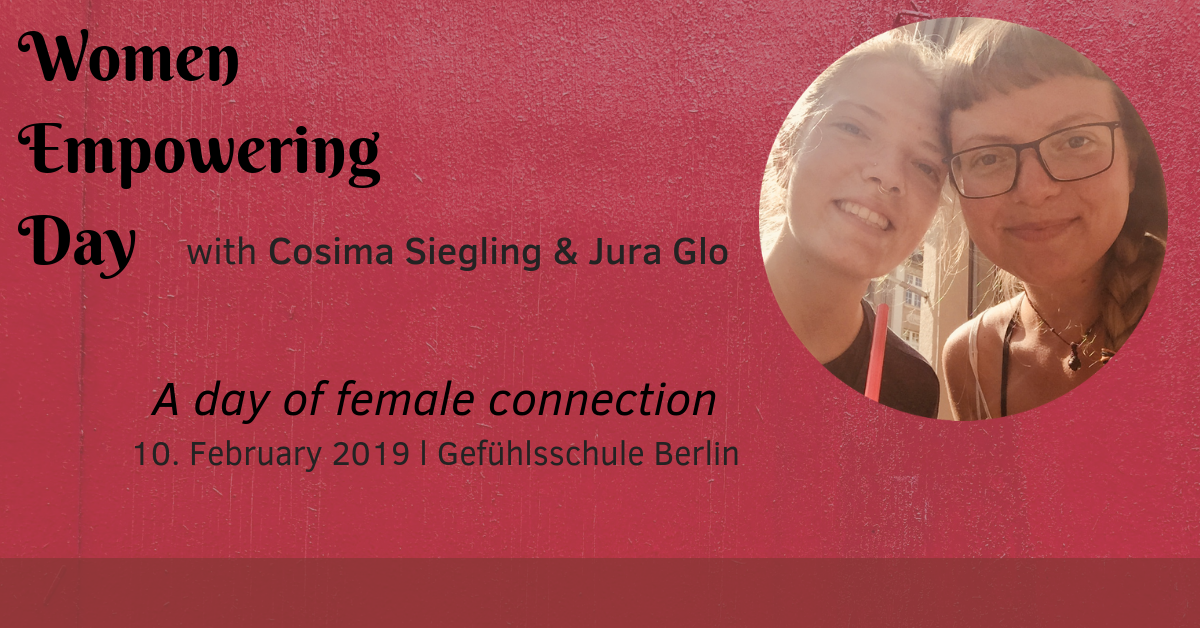 We invite you to a day full of connection, slowness, fun, touch, emotions and love.
We love women. And we wanna create a space for us to let go and open up.
We deserve a room full of female energy, relaxation and nurturing.
The empowerment day comprises of three parts:
Connect to ourselves. Connect to the whole group. Connect one on one.
Jura and me will guide you through the day.
Jura is an experienced transformational workshop leader; she works with Radical Honesty, Tantra Yoga, Conscious Sensuality and alternative psychotherapies. I have many years of experience working with groups, using words and writing to inspire. I also work with Conscious Sexuality and Kink.
Jura and I met at a workshop in Peru 3 years ago. We inspire each other since that day! From this deep passion for unconditional love and support, we wanna share tools and inspire you to be the best version of yourself and to each other.
Closing and consensual cuddling 19.30
We will be at Gefühlsschule Berlin.
Welserstraße 5-7, 10777 Berlin
Go through the courtyard. Right corner.
There is a sign Gefühlsschule.
We are aware that not all humans identify within the categories of women and men. We try to be inclusive. We welcome female identifying and non binary people. If you have doubts if the event is for you, please contact me.
To sign up send a message to mail@cusilife.de with your full name and email address. 
10€ off when you bring a friend
Do you have any questions or are not sure if this is for you? 
Please reach out to me.
If you wanna know more about Jura and me you can check out our websites here
www.juraglo.com / www.cusilife.de (well if you read it here, you are already on my website).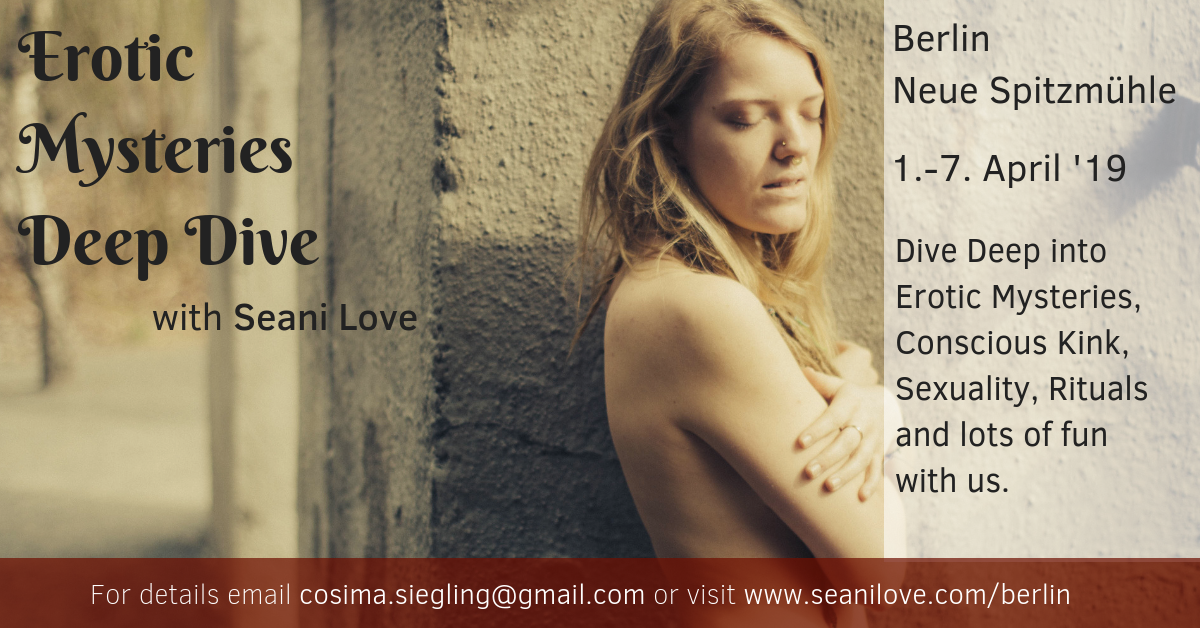 Ich organisiere den Workshop. Ich leite den Workshop nicht. // I am organising the workshop. I am not facilitating the workshop. 
Erotic Mysteries Deep Dive: Tantra, Conscious Kink and the human Shadow
Do you wish to know more about the mysterious power of your own sexuality?
Have you heard about sex magick, conscious kink and Neo Tantra and wonder what these all mean?
Is it time for you to confront your own erotic shadows and shine your own beautiful light into the world?
Then join us for this Deep Dive into the Erotic Mysteries
The Erotic Mysteries are the mysterious and beautiful places where Tantra, Conscious Kink and the human Shadow overlap. What does this mean exactly?
In one sense, we'll be exploring the esoteric mystery traditions. One common goal of many of these traditions is for each explorer to fully remember that we are all divine beings and the goal of the work is to bring our divine nature into full consciousness. In other words: one purpose in exploring The Erotic Mysteries is to help us see through all of the illusions and mental programming and to remember who we really are.
A second goal is to help others also remember. There is a 'coming home' feeling once we remove the shackles of illusion put upon us by the modern world.
In a practical sense, the Erotic Mysteries are about creating safe and conscious ritual spaces where we can take time to look within, explore what we find there, integrate those things we find and come out whole and empowered. As so much of our sexuality is buried in shadow, a part of our deep dive will involve using the tools of Conscious Kink in order to forge a path within ourselves.
Conscious Kink is important to our exploration of the Erotic Mysteries as these tools allow us to explore any fetishes we might have in an empowering and nurturing way. We may explore what it's like to engage in impact play (e.g. flogging or spanking) or we may create scenes where we find out what it's like to serve another person for a while. Conscious Kink also allows for our darker erotic fantasies to be explored, and for this reason a large part of the workshop is geared towards learning common tools for asserting boundaries and ensuring healthy methods for gaining authentic consent.
In this workshop we cover the tools of Sacred Sex, Erotic Service and Conscious Kink in a ritualised content. The goal of exploring the Erotic Mysteries are to combine powerful erotic states with spirituality and to create magical spaces of deep learning. We light a proverbial candle, turn inwards and face our own shadows that we have, up until now, suppressed. We embrace our own light and our own darkness in order to understand ourselves and serve each other. We use erotic techniques and shamanic journeying to reclaim those parts of ourselves otherwise lost. We explore our own inner worlds leading to places of power, self-love and ultimate greater self-knowledge.
Please note:
This is an intensive ritual / deep dive and we expect to host many breakthrough moments for people on the journey of self-discovery
The Erotic Mysteries can be a set of powerful tools for healing sexual trauma, but the movement towards healing is at your own pace. We provide the tools, techniques and safe space.
Whilst we expect a high erotic content, all of your personal boundaries will be honoured and nurtured at all times.
This event is open to people of all genders, sexual orientations and relationship formations.
It will be taught in English.
This workshop will be run by Seani Love and his expert team to be announced nearer the date.
--
FACILITATION
Seani Love (www.seanilove.com) is a professional Kinkster, Shadow Explorer and Shamanic BDSM practitioner who has twenty years of experience in diverse magical traditions and erotic practices. In 2015 he won the award of Sex Worker of the Year at the Sexual Freedom Awards in London.
He is trained in counselling and since 2006 has been working on combining ritual journeys with BDSM as a powerful pathway to healing and self-discovery. As an international workshop facilitator, Seani has supported many people on their journey to places of increased power, personal and sexual expression, wisdom and love.
PRACTICAL INFORMATION
The weekend will take place at the beautiful venue 'Spitzmühle Berlin'.
Neue Spitzmühle
Spitzmühlenweg 2
15344 Strausberg
1st - 7th of April 2019
Arrival and dinner together on the 1st.
Departure after lunch on the 7th.
PRICING
Tickets include the workshop, accommodation, 3 veggie meals per day prepared with love and organic food, sauna
Regular 950€
Early Bird 850€ // SOLD OUT
Super Early Bird 750€ // SOLD OUT
Helper Tickets available for discount price // SOLD OUT (for now)
Discount - If you have attended a workshop with Seani before, you get 50€ off your ticket.
HOW TO REGISTER AND PAY
Step 1: All participants are to register their details and past experience using this document: https://goo.gl/forms/V0ZaWFezEgQ9OdPv2
Step 2: Email event organiser Cosima Siegling for payment details at cosima.siegling@gmail.com.
You can pay in full, a nonrefundable deposit of 100€ , or organise a payment plan. Cosima will send you bank details for payment.
QUESTIONS
If you have any questions from logistics to payment to content about the workshop, email cosima.siegling@gmail.com.
We look forward to welcoming you ♥
Conscious Kink Sexuality mit Galen Fous I Vortrag und Männerworkshop - September 2018
Getting Conscious with Kink mit Seani Love - Oktober 2018
Polyamorie Q&A beim Freudensalon von Sexklusvitäten - November 2018
Consent Games beim Freudensalon von Sexklusvitäten - November 2018
David

Hilgert

about Conscious Kink Sexuality Weekend
with Galen Fous and me. 
"I've experienced an absolutely amazing, breathtaking, transformational, live changing weekend. The experiences I've made in the last three days, the things that I've learned, and the beautiful humans I've connected with along the way brought me a huge step closer towards becoming the man I am supposed to be, yet who I denied and repressed for all of my past life. I feel that my life has gotten a completely new direction now. I want to shout out a big THANK YOU to everyone who was a part of this experience. You changed my life."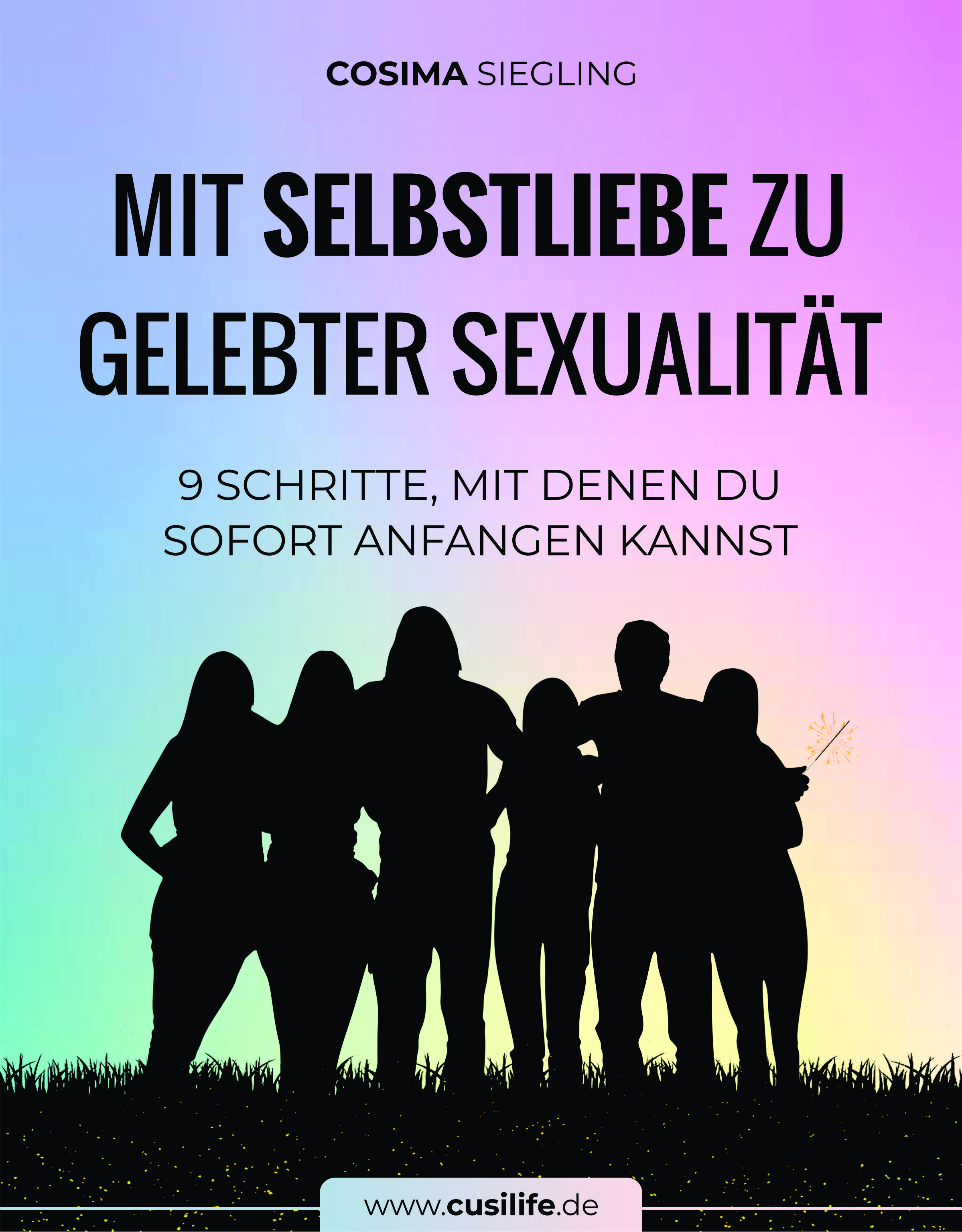 Wahre Selbstliebe hat mein Leben verändert.
Ich habe keine Lust mehr auf sex-negative Moral. Du auch nicht?
Lass uns liebevoll, aufregend und neugierig mit und selbst und unserer Sexualität sein.
Abonniere den Glücksletter und hole dir kostenlos das eBook!